For your baby learning to self-feed
This baby feeding set is an example of tableware that's suited for small hands and tiny appetites. Made from baby-friendly and durable materials, it is designed to be easy to care for. This set includes a BPA-free silicone bowl & spoon in a soft mint color your family will love. Perfect for all first food approaches, including baby-led weaning.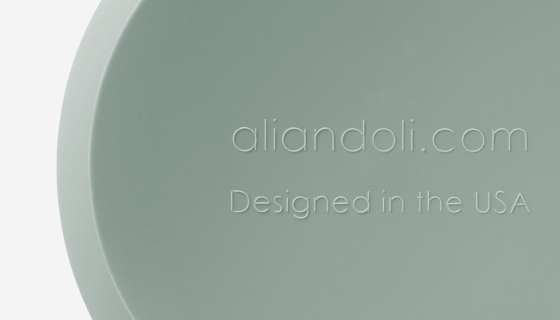 Building confidence at mealtimes with less mess
Introduce babies to the world of independent eating
For easy one-handed feeding
Strong suction bowls for toddlers with raised scooping lip helps mom feed the baby with one hand which is super convenient!
Less spills and less mess
The matching spoon is soft and pliable. It allows to scoop food easily, helping develop fine motor skills and self-feeding.
Make sure that it's stuck in place
Features a suction base on the bowl, making it much harder for kids to knock over! To increase suction strength, add some water below the suction part.
Safe contact with food
The Ali+Oli Wavy Suction Bowl & Spoon set is made from 100% food-grade silicone, BPA-free, phthalate-free, lead-free & PVC-free.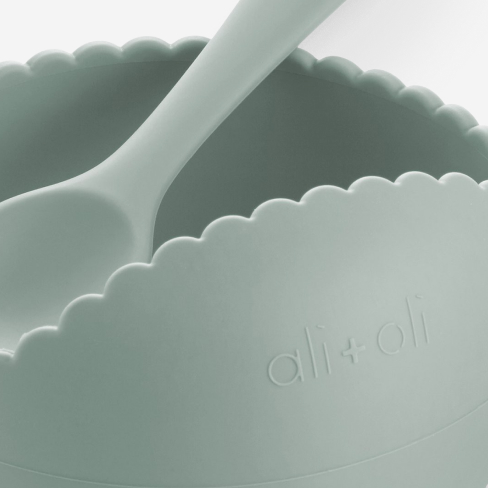 Super easy cleaning
Hand wash in warm soapy water before first use. Always clean & rinse thoroughly after each use. Easy to hand-wash with warm soapy water. Microwave & dishwasher safe.
Sizing information
The bowl measures 4.5″ x 4.5″ round x 2.25″ tall and easily fits 8oz of food. The spoon measures 5.75″ x 1.25″ wide. Perfect for 6 months & up.
Little ones need dishware that can stand up to their feeding learning curve
Best newborn gift, perfect for new moms and parents, great birthday present for toddlers, small kids, and for all the family. Little ones will surely look forward to mealtimes with this clever baby bowl and bendable spoons set! Perfect for hungry babies and busy parents alike. Suitable for most highchair trays at sticks to flat surfaces.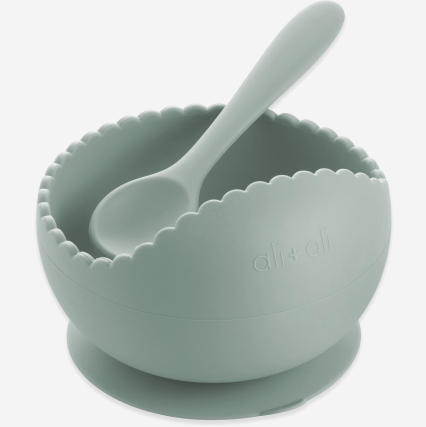 About Ali+Oli
Hi there, we are Oliver & Alejandra James, we are the co-founders of Ali+Oli. This is our family business and these are our daughters, Isabela, Penelope, and Natalia. We run our small business from Coral Gables, Florida, which is a suburb of Miami, and we started our baby product business in 2007, when these girls were just babies.
We have experienced all of the ups-and-downs of parenting just like you have, and we know what you expect when you buy a baby product. This is what is behind our passion in creating the high-quality baby products you receive when you purchase from our brand.
Even though our girls are grown now, we still find great joy in seeing our products being used by young families and their adorable babies.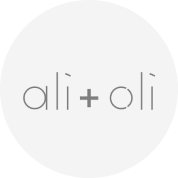 Designed In
Coral Gables, Florida